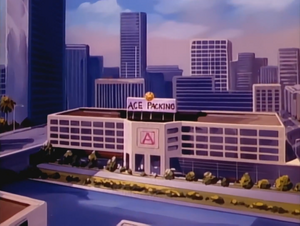 Ace Packing, Co. is a location in the Jem animated series. It is one of the biggest packing companies in Nebraska, US, and the place where Leonard Martin works as a supervisor.
Facilities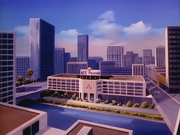 The Ace Packing company is located in Nebraska, US. It is one of the biggest companies in the state, with its facilities situated among many other tall buildings in the middle of the city.
The building is structured mainly horizontally, with four rows of upper floors which are most probably used to house offices.
A big signboard dwells atop the central building with the words "Ace Packing" and the logo of the company, a giant letter "A", painted on its facade.
On the inside, the company counts with big workshops with equally big industrial machines used for packing diverse materials and possibly for manufacturing cardboard and/or wooden boxes too.
Ad blocker interference detected!
Wikia is a free-to-use site that makes money from advertising. We have a modified experience for viewers using ad blockers

Wikia is not accessible if you've made further modifications. Remove the custom ad blocker rule(s) and the page will load as expected.