Brad is a minor character appearing in the 2015 musical, fantasy, adventure film, Jem and the Holograms, directed by Jon M. Chu. He is the valet parking employee of Astral Recordings and is played by actor Nicholas Braun.
Appearance
Brad is not your typical valet parking employee and instead looks more like a street punk, with tattoos on his arms and piercings in his mouth and ears.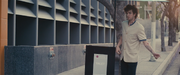 He fashions dark eyeliner, spiky hair and black-painted fingernails, which clash heavily with his uniform as a valet.
He seems to be a bit insecure of himself, although he is always looking to make his way into the music industry to share his music with the rest of the world.
Plot
Brad works as a valet in Astral Recordings and only wants to be given an opportunity to break into the music industry. For this purpose, he has created a music demo he desperately wants to give to someone influential in the business, someone like Erica Raymond.
His appearance clashes heavily with his uniform as a humble valet parking employee, which may imply he only took the job in order to give his demo to someone important or just out of pure necessity (or maybe both).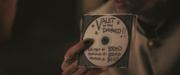 When we first meet him, he approaches Erica as she and the girls are coming out of the recording studio and desperately begs her to accept his demo, which she instinctively dismisses and instead orders him to bring her her car.
The next time we see him, is at night outside of Astral, where Rio is trying to convince him to give him his mother's car keys. Brad asks what's in it for him and Rio proceeds to look for his wallet. Brad stops him and tells him that what he really wants is to have access in the industry, giving him his demo. Rio takes it and Brad gives him the keys.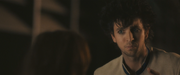 Erica arrives a short time later and asks him to bring her her car. After an unsuccessful attempt to beguile them and being "persuaded" by
Zipper
, he ultimately has to confess that Rio took the keys to her car and that he headed over toward
Starlight
.
Ad blocker interference detected!
Wikia is a free-to-use site that makes money from advertising. We have a modified experience for viewers using ad blockers

Wikia is not accessible if you've made further modifications. Remove the custom ad blocker rule(s) and the page will load as expected.