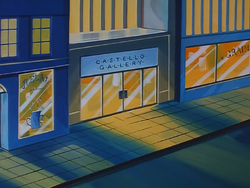 The Castello Gallery is a location in the Jem animated series. It is a small but prestigious locale in New York City's market district. Its owner, Maria Castello, runs the place and makes sure only the hottest contemporary artists display their latest works of art in it.
Facilities
Maria
's office is richly decorated with an elaborate tapestry in green and white colors,
with many paintings, both classic and modern, hanged about it.
A vast storeroom can be found at the back of the gallery, where a big gate gives access directly to a small parking lot located on the backstreet. Cars and trucks can load or unload art pieces, equipment or other materials here. Many pieces, carefully stored in wooden boxes, are also kept here for future exhibitions or awaiting to be moved somewhere else.
Ad blocker interference detected!
Wikia is a free-to-use site that makes money from advertising. We have a modified experience for viewers using ad blockers

Wikia is not accessible if you've made further modifications. Remove the custom ad blocker rule(s) and the page will load as expected.