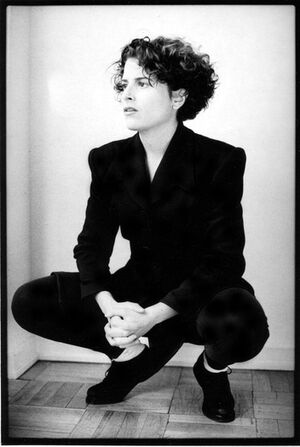 Ellen Bernfeld (also known as Norma Human) is an American singer, songwriter, performer and voice actress. She provided Pizzazz's and Roxy's[1] singing voice in the Jem animated series that ran from 1985 to 1988.
Ellen is also known for her work on Anastasia (1997) and Buster & Chauncey's Silent Night (1998).
Biography
In the early '80s, Ellen was recording with her techno-pop band, Norma Human (and the Body People), when her song "Don't Ask Questions" landed her the singing role of the bad girl Pizzazz, lead singer of The Misfits, in the Jem animated series.
As the '80s disco queen, "Ménage", she sang the hit dance versions of "Memory" and "Wind Beneath My Wings". She also predicted an epic disaster in her ambient/electronic/European Dance maxi-single, Tsunami - Tidal Wave.
She's played multiple characters in her albums Songs For Dogs and Songs For Cats (and the People Who Love Them), projects which almost made it all the way up to the Supreme Court of the United States.
She's also been a very busy studio singer in New York, where she sang on numerous well known jingles and recordings.
Reporting as the "Neo-Musical-Disco-Journalist" in her YouTube videos, "Madoff In America: An Original Rap Disco Drama" and "Hillary's A Lovin' Mama, Obama (Advice From Norma Human)", she made her humorous commentary about the current state of the nation.
In 2015, she'll be scatting and singing jazz in Sarasota and doing her show "High Standards", an homage to the great singers and songwriters of the past.
Discography
Albums
Norma Human (and the Body People)
Ellen Bernfeld (and the Babushka Band)
I Can't Get Away from Romance
Jazz with Pizzazz
Maxi-singles
Tsunami - Tidal Wave
Time of the Season
Pet projects
Songs for Dogs (and the People Who Love Them)
Songs for Cats (and the People Who Love Them)
Gallery
Videos
Trivia
References
External Links
Ad blocker interference detected!
Wikia is a free-to-use site that makes money from advertising. We have a modified experience for viewers using ad blockers

Wikia is not accessible if you've made further modifications. Remove the custom ad blocker rule(s) and the page will load as expected.