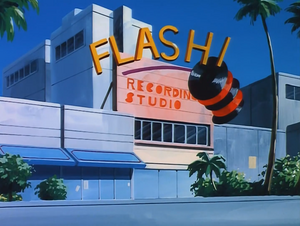 The Flash! Recording Studio is a location in the Jem animated series. It is one of the biggest recording studios in the city and home of the creation of one of the most successful records in the Jem universe, Kimber & Stormer's Back to Back.
Facilities
Flash! is one of the biggest recording studios in the city. It counts with several specialized buildings in its interior with, presumably, offices for the executives at the top of the two tallest buildings.
A large signboard at the entrance welcomes its visitors, displaying the name of the studio in big letters with the image of various black and red records decorating it. Next to the main entrance are the gates that give access to the parking lot.
These are particularly wide, which is understandable if one takes into account the amount and size of music equipment that must be transported inside.
The main recording studios and corridors are quite stale, however, with only big white panels covering their walls and no decorations whatsoever, other than a lonely plantpot here and there. The actual studios where the music is recorded, while being nothing out of the ordinary, are quite large and even have small stages where the musicians can play their instruments.
As expected, a small separated room with sophisticated control panels can be found inside of each studio, where recording engineers can control all sounds and give instructions to the musicians.
Gallery
Ad blocker interference detected!
Wikia is a free-to-use site that makes money from advertising. We have a modified experience for viewers using ad blockers

Wikia is not accessible if you've made further modifications. Remove the custom ad blocker rule(s) and the page will load as expected.