Ryan Guzman



Birth name

Ryan Anthony Guzman

Born

September 21st, 1987
Abilene, Texas, United States

Role

Occupation

Actor, model

Years active

2012-present
Ryan Anthony Guzman (born September 21st, 1987) is an American actor and former model. He is best known for portraying Jake in the ABC Family/FreeForm TV series, Pretty Little Liars, Sean Asa in the fourth and fifth installments of the Step Up series, Noah Sandborn in The Boy Next Door, and Carlos Gutierrez in the mini-series Heroes Reborn.
He played the role of Rio in the live-action film, Jem and the Holograms (2015).
Life and career
Guzman was born in Abilene, Texas. His father, Ray, is Mexican. His mother, Lisa (née Hudson), who was born in California, has British, German, French, Dutch and Swedish ancestry. He has a younger brother named Steven.
Guzman moved to
Sacramento, California
, his mother's native city, at a young age.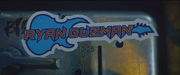 He graduated from West Campus High School in 2005 and attended Sierra College.
In 2015, Guzman played the role of Rio Raymond in the musical, fantasy, adventure film, Jem and the Holograms.
Trivia
The Jem and the Holograms movie is the third time he works with director Jon M. Chu, although in Step-Up: Revolution and Step-Up: All In, Chu was the producer, not the director.
Gallery
Ad blocker interference detected!
Wikia is a free-to-use site that makes money from advertising. We have a modified experience for viewers using ad blockers

Wikia is not accessible if you've made further modifications. Remove the custom ad blocker rule(s) and the page will load as expected.