Sean Harrison



Full Name

Sean Harrison

Gender

Affiliation

Various

Occupation

Singer, songwriter, actor

Voiced by
Sean Harrison is a British teen idol and also one of Kimber's many boyfriends.
Background
Sean is a British singer/songwriter/variety performer who meets Kimber while at the World Hunger Shindig (The World Hunger Shindig). He reappears in the episode Scandal and later in Hollywood Jem. He also makes one last appearance in Riot's Hope, but only as a background character.
Sean falls for Kimber and attempts to engage her in a relationship in Hollywood Jem (Part 1), but ended up getting his heart broken in the process. His relationship with Kimber was mended at the end of Hollywood Jem (Part 2), but they still don't get married as both feel they still need to know each other better, although they still keep seeing each other. It's revealed that Sean had a relationship with Pizzazz a year prior while playing at a club in London. According to Pizzazz, Sean was a lot tougher and didn't shirk away from a fight before changing his public image to that of a much cleaner pop star. She makes a move on Sean, who tells her she needs to grow up and makes it clear that he is interested in Kimber.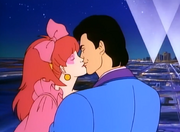 Out of all the boyfriends Kimber has gone through, Sean seems to be the only one who truly has genuine affections toward her, although he comes across as a bit weak compared to Jeff, her other boyfriend at the time. Even though he is an "on-and-off boyfriend", Kimber seems to be most serious about him as far as her love life is concerned.
Later, at Venice Beach, Sean asks Kimber to write a song for him in Scandal. This is almost jeopardized by Pizzazz, who manipulates his lines in a forced interview to make seem as if Sean cares nothing about Kimber. The hoax is revealed during a live talk show.
Sean intends to propose to Kimber, but by this time she has decided to accept Jeff's proposal instead, as he is "more exciting". Sean later gets hurt while filming a movie with Jem and The Holograms for Howard E. Sands, in an attempt to prove to Kimber he can be just as exciting.
In the end, Sean sends Rio in his place to break up Kimber's wedding with a counter-marriage proposal, which Kimber accepts.
Personality
Sean is usually a kind guy, but he can get angry if he's annoyed by someone, or something. It was shown in The World Hunger Shindig and Scandal that he was extremely annoyed by Pizzazz, mostly because their personalities differ.
Gallery