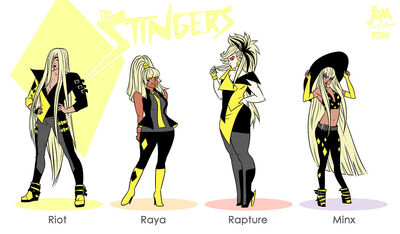 For the animated series band, see The Stingers.
The Stingers are a rival band in the comic series Jem and the Holograms.
Trivia
Even though there are only three members in the animated series, the comic has bumped it up to four band members instead.
Ad blocker interference detected!
Wikia is a free-to-use site that makes money from advertising. We have a modified experience for viewers using ad blockers

Wikia is not accessible if you've made further modifications. Remove the custom ad blocker rule(s) and the page will load as expected.